Solea (c/hebilla)
From 78,90 €
Category

Material

Color

Heel

Nails

Size
This is my shoe
Not selected

Not selected

Not selected

Not selected

Not selected

Not selected
Size Guide
SIZE GUIDE
| | |
| --- | --- |
| SIZE | FOOT LENGHT (CM) |
| 30,5 | 20,3 |
| 31,0 | 20,6 |
| 31,5 | 21,0 |
| 32,0 | 21,3 |
| 32,5 | 21,6 |
| 33,0 | 22,0 |
| 33,5 | 22,3 |
| 34,0 | 22,6 |
| 34,5 | 23,0 |
| 35,0 | 23,3 |
| 35,5 | 23,6 |
| 36,0 | 24,0 |
| | |
| --- | --- |
| SIZE | FOOT LENGHT (CM) |
| 36,5 | 24,3 |
| 37,0 | 24,6 |
| 37,5 | 25,0 |
| 38,0 | 25,3 |
| 38,5 | 25,6 |
| 39,0 | 26,0 |
| 39,5 | 26,3 |
| 40,0 | 26,6 |
| 40,5 | 27,0 |
| 41,0 | 27,3 |
| 41,5 | 27,6 |
| 42.0 | 28,0 |
| 42,5 | 28,3 |
| 43,0 | 28,6 |
| 43,5 | 29,0 |
| 44,0 | 29,3 |
| 44,5 | 29,6 |
| 45,0 | 30,0 |
| 45,5 | 30,3 |
| 46,0 | 30,6 |
| 46,5 | 31,0 |
| 47,0 | 31,3 |
WIDTH
| | |
| --- | --- |
| A | Narrow |
| B | Normal |
| C | Width |
| D | Double Width |
HOW TO TAKE MEASURES?

1. Stand with balanced weight on both legs, bare feet and a sheet of paper under each foot.

Ask someone else to help you draw the outline of your feet, using a fine-tipped pencil and keeping the pencil perpendicular to the sheet.

3. Before moving out of position, carefully lift the forefoot so that you can pass one sewing centimeter.  Your helper will have to take the contour of your instep and the wide part of your foot (height of the toes). Write the result at the height of each measurement.

4. Finally, once the contours have been taken, the length measurement is taken using a ruler and a line is drawn connecting the two ends. Write it down clearly.

5. Write your name and the corresponding footer (right - left) on each sheet. It also helps us to know your usual foot size in street shoes.
    
We also recommend you watch our video tutorial on how to take foot measurements.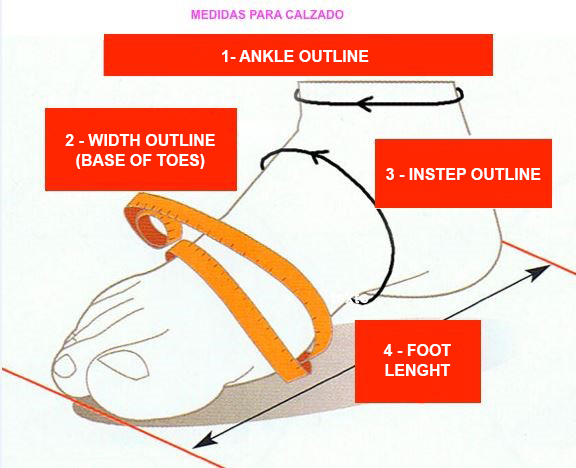 Incrementos
| | Académico | Conservatorio | Profesional | Profesional 1 | Elite |
| --- | --- | --- | --- | --- | --- |
| | ZA05 | ZX05 | ZS05 | ZP05 | ZE05 |
| Precio Básico | 78.9 | 123.9 | 123.9 | 149.5 | 234.55 |
| Color | 6 | 6 | 6 | 6 | 0 |
| Con clavos | 3.3 | 3.3 | 3.3 | 3.3 | 0 |
| Ante | 5 | 5 | 5 | 5 | 0 |
| Mujer Talla > 42 | 9 | 9 | 9 | 9 | 9 |
| Hombre Talla > 44 | 6 | 6 | 6 | 6 | 6 |
| Tacón Palo Santo | 8 | 8 | 8 | 8 | 8 |
| | Beginners | Advanced | Professional | Professional 1 | Elite |
| --- | --- | --- | --- | --- | --- |
| Handmade | | | | | |
| High-quality cowhide | | | | | |
| Sole | Synthetic | Synthetic | Hand-non-stitched leather | Hand-stitched leather | Double-stitched leather |
| With philips | | Serraje | | | |
| Sound guaranteed | | | | | |
| Double stitched with nails | | | | | |
| Twice nails in the tip | | | | | |
| Air sole | | | | | |
| Whole and half sizes | | | | | |
| Special measurements on order | | | | | |